Get Your Smile Back Today
Call Dr. Lawrence Gottesman
Implant - Cosmetic - General Dentistry
Dental Implants
Cosmetic Dentistry
General Dentistry
Located in Rockville Centre

MOST INSURANCE PLANS ACCEPTED
AS PART PAYMENT TOWARD YOUR TREATMENT
FINANCING AVAILABLE THROUGH CARE CREDIT AND THE LENDING CLUB
Get Your Smile Back - Call For Appointment Today

: Call Now To Schedule Your Appointment
Top Nassau County Implant & Cosmetic Dentist
Call Today (516) 252-3160
WE MAKE IT EASY TO SAY YES!
Call Now To Schedule Your Appointment
MOST INSURANCE PLANS ACCEPTED AS PART PAYMENT TOWARD YOUR TREATMENT
EFFECTIVE DENTAL TREATMENT STARTS HERE
Dentistry is both a highly evolved art and science.
Beautiful and functional dental treatment is not the same for every patient.
Philosophically and clinically, I believe less is more. I maintain a conservative and individualized approach to your dental needs.
When patients require extensive treatment, I am prepared to resolve your dental problems at the highest level.
I take great pride in the personalized attention each patient receives.
I believe in establishing a caring and trusting relationship which begins with listening carefully-- taking the time to understand your wants and concerns.
I welcome you to my practice with the intent of providing you with exceptional dentistry and service delivered in a dignified manner.
WE MAKE IT EASY TO SAY YES!
MOST INSURANCE PLANS ACCEPTED AS PART PAYMENT TOWARD YOUR TREATMENT
Our practice is pleased to present flexible payment plans through Lending Club Patient Solutions. Lending Club Patient Solutions offers:
 • Plans with low fixed rates & low monthly payments that never change over the life of the loan
• Patient-friendly,True No-Interest Plans with no retroactive interest  
• No upfront payments
• No prepayment penalty
It's easy to calculate your potential monthly payments.
Simply complete a short application which displays fixed rates and monthly payments available for Extended Plans, all without impacting your credit score.
For more information, simply ask a team member or visit (CLICK IMAGE BELOW) to get started

Take control of the health of your mouth. With the CareCredit healthcare credit card you can benefit from our special dental financing options.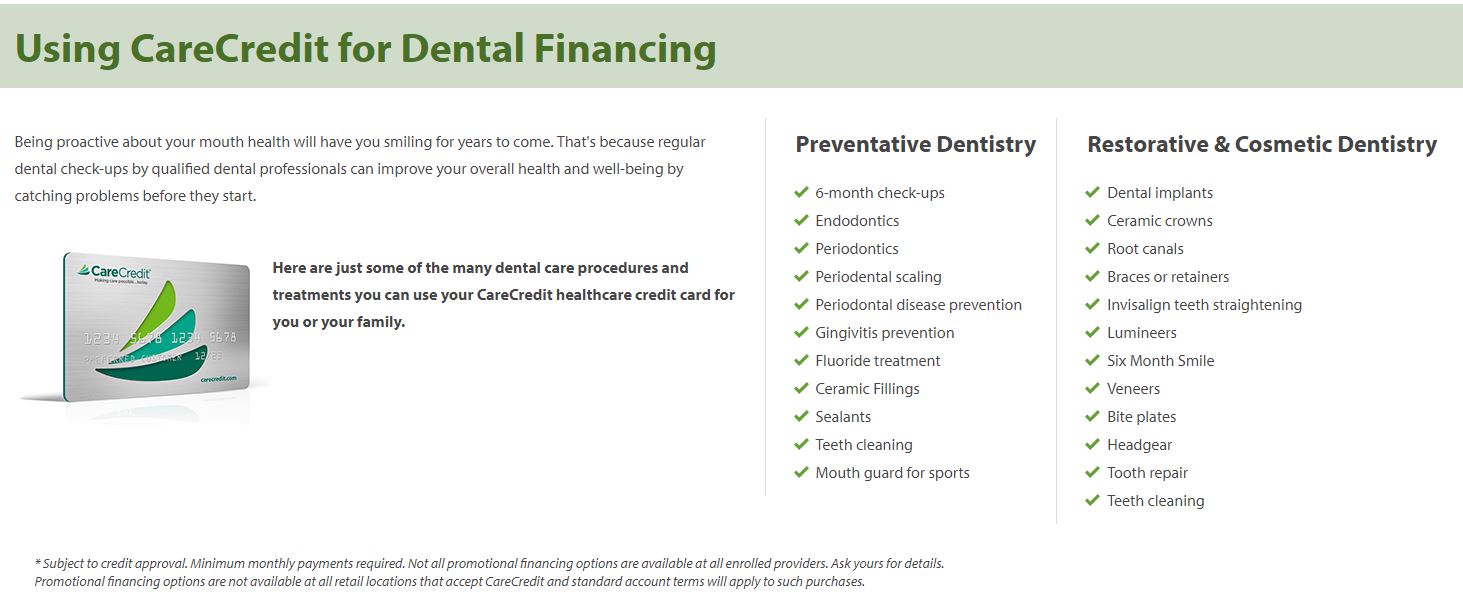 <![endif]-->